About Us
The principal of PACE Fitness is Rande LaDue. Rande has been in the Fitness Industry over 30 years, opening his first health club in upstate New York in 1980. He has owned, managed and worked in several fitness centers and has consulted with hundreds of clubs across the country. In the early 90s, Rande was hired by a major medical company to be the Director of Sales for its PACE Fitness Division. At that time, the industry was changing: articles were being written about the aging baby boomers, the deconditioning of America and seniors, but few fitness companies were doing anything about it. Rande saw PACE as the perfect non-intimidating hydraulic circuit program to help attract those people who typically did not join health clubs (the overweight, women, the deconditioned, seniors, busy executives, etc.), so he decided to accept this challenge.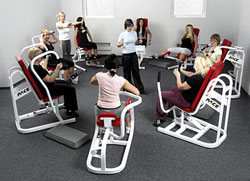 Rande has marketed PACE since then. He currently is the exclusive manufacturer and distributor of PACE through PACE Fitness. Rande's business philosophy in distributing PACE is that every program must be a win-win situation for all concerned. "There can be no losers in a business with long-term goals and a commitment to excellence. My philosophy in business is borrowed from Zig Zigler, who said "You can get anything you want in life if you help others achieve their goals". If I help my customers become successful, then I will ultimately become successful. They will buy from me again when they open their 2nd and 3rd clubs and they will tell others about PACE".
"I used this same philosophy in my own clubs- if I help a member achieve their fitness goals, then I will keep them as a member and they will bring their friends in. I encourage my customers to adapt the same philosophy in their clubs". Rande has helped thousands of clubs over the years successfully implement PACE programs; he knows what it takes to be successful and the pitfalls to avoid.
A Certified DVD Training Workshop included in every PACE Package. Also included in every PACE Program is a complete Marketing/Training manual with forms, contracts, waivers, sales training, preferred vendor list, newsletters, press releases, ad slicks, music CD's, Cue CD's, body fat analyzer, nutrition samples, banner, heart rate charts, etc.; everything you need to make your program a success!
Whatever your needs:


To open a new Women's Club, Men's Club, Coed Club, Weight Loss Center or Personal Training Studio. To add a dynamic new group exercise program to your existing club. To increase revenue. To increase membership. To increase member referrals. To improve member retention. To attract new markets (overweight, seniors, deconditioned, etc.). To get the jump on the competition or to just increase profits substantially - PACE can help.
Call PACE Fitness at 949.888.8045 for a free PACE DVD and see for yourself how a PACE Circuit Training Program can benefit your club.

PACE Fitness can also be reached through our Contact Us webpage or directly via email at info@PaceCircuitTraining.com.