Testimonials
Snap Fitness, National Chain. snapfitness.com


Peter Taunton, CEO. "We at Snap Fitness are proud to be the first national 24 hour access fitness company to feature hydraulic circuit training equipment in our clubs. We researched equipment suppliers thoroughly and decided to go with PACE, the best hydraulic equipment in the industry. We will be featuring the PACE circuit in women's only areas of our larger clubs to provide a superior alternative to the women's franchise clubs out there. Our members will not hit plateaus with PACE as they do with their current non-adjustable women's club equipment- also, once they feel comfortable, they have access to the rest of the club and a wide variety of equipment."
Stay Fit Seniors, Congers, NY. stayfitseniors.com


Dr. Roger Russo & Dr. Anthony Lauro. "In our chiropractic practices, we saw many seniors who got little if any exercise, mostly because of intimidation. Lack of exercise can lead to many physical problems. We decided to offer safe, effective workouts to our senior chiropractic patients and started Stay Fit Seniors. We wanted to offer the safest, most effective equipment available and we also wanted the best possible senior fitness spokesperson. The choices were no-brainers; we are proud to feature PACE equipment in our licensees' locations and we are proud to have had Jack LaLanne as our National Spokesperson."
Friona Fitness, Friona, TX
Holly Campbell, Owner "Using the tools in the PACE marketing package, we attracted 35 people into our club the first day and 39 the second day! The Friona women are SO excited and several have told me this is a God thing that they needed. Several older ladies have come in and love it! Our Trainer, Amy, was so much fun and helpful. Thank you again for all your help and for the great equipment."
Fast and Fit, Grass Valley, CA. www.fastandfit.net


Judi Bannister, Owner: "I've been a PACE owner since 2002 and have been very happy with the equipment, which I purchased from Rande. Rande is extremely responsive to my questions and has always been able to help me solve any problems that I might have. The PACE equipment is holding up very well and people can't believe how good it looks even after 8+ years. I like that the PACE name is known in the fitness industry as being a solid company and I'm very happy to be a part of it. Thanks Rande!"
Frenchy's Fitness Center, Durand, IL.
Jacque French, Owner: "I used to work out at Curves before they closed and I realized I needed to keep going. I then thought about all the other women who also needed a place to work out, so we developed our own plan. We did a lot of research and I'm so glad we did! We checked out buying a Curves franchise, but found out about all the high fees that basically put the previous owner out of business. We found out that Curves was a copy of PACE and that PACE had superior equipment at a better price with no franchise fees - it was a no-brainer!"
Fitness Director College of DuPage - Glen Ellyn, IL
Don Klaas, President: "At College of DuPage, a community college in Glen Ellyn, Illinois, we serve 800 students and members in our Aerobic Fitness Lab. The PACE machines are an important part of our program. These machines are especially popular with our older clientele. They like the resistance the machines offer without the challenge of actually lifting weights. They also like the ease with which the PACE machines can be used."
Colorado River Indian Tribes - Parker, AZ.
Doris A. Drennan, Special Diabetes Project Coordinator : "Diabetes is a serious problem for Native Americans. We spent almost a year researching the best fitness program for the special needs of this group and decided on PACE. All of the participants loved their first PACE workout; there was no muscle soreness even with the most deconditioned and they were amazed with their increased energy. I am sure that as the days go by, PACE will be a great asset to our clients health and overall well-being. We will also be using the PACE as our employee fitness program and in our youth fitness programs."
Peregrines Landing Senior Living Center - Buffalo, NY. www.peregrineslanding.com
Charlene Brosius, Administrator : "Several years ago Peregrine's Landing was awarded a grant through the State of New York to enhance the lives of our residents within our Assisted Living Community here in Buffalo New York.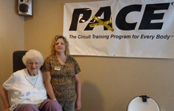 We took a room which had little use and purchased exercise equipment through PACE. Rande was extremely helpful in choosing equipment which was easy to use and also which would provide the benefit of increasing our resident's upper and lower body strength.

It didn't take long to fill our classes which are held Monday, Wednesday and Fridays. Our PACE leader Debbie has been with us from the beginning and takes great pride in the progress of our residents. Debbie contacts each new resident's physician and orients them to the program offering informational paperwork on all the equipment.

Over the years we have had up to 35 people participating at a time. We have set times for the women, men and our memory care unit. On Tuesday and Thursday we offer sit and be fit so all our residents have the opportunity to function at a level they are comfortable with.

By increasing our resident's muscle strength and stamina we have a decrease in the number of falls. Our diabetics now have scheduled exercise time and have more stable blood sugars.

We couldn't speak higher about the entire PACE program. We checked out many other programs but found that not only is this equipment conducive to our senior population, the customer service and support is exceptional.

Our resident's love their program.

We have even taken to another level by offering it to our staff.

PACE exercise program is proof that you are never to old to exercise and take care of your body."