KID'S FITNESS PROGRAMS
Obesity levels in children have more than doubled in the last 10 years to over 15% and over 30% of America's youth are considered overweight.
Factors such as video games, fast food, computer games, TV, cuts in school physical education programs, all contribute to this problem. More than 60% of today's kids do not participate in organized physical activity
outside of school.
Lack of exercise is a likely contributor to the dramatic increase in type II diabetes among American children.
Benefits to Kids:
Fast results for positive re-enforcement
High calorie burn
Fun introduction into fitness lifestyle
Increases self esteem & confidence
Safely improves fitness levels without muscle soreness, peer pressure or intimidation
Benefits to Facilities: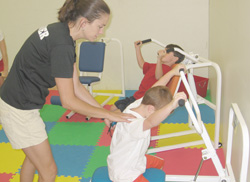 Attract family memberships
Additional profit centers
Increased community involvement and appreciation
Increased potential new memberships
Increased member retention
Kids PE™ is Ideal for:
Elementary Schools
Health Clubs
Medical/Weight Loss Facilities
Women's Circuit Training Clubs
Community/Rec Centers
Dance/Gymnastics Centers
Martial Arts Centers
Church Youth Groups
Little League, Soccer, School Teams
Kid's PE™ is a fun, non-intimidating, non-competitive fitness program combining strength and cardiovascular exercises in structured, supervised formats.
Kid's PE™ is designed to allow each child to reach his/her optimum fitness level quickly and safely.
Kid's PE™ uses safe hydraulic resistance which accommodates to the fitness level of each child. Hydraulic resistance does not cause muscle soreness and is safe on joints and growing bones.
Kid's PE™ provides a high calorie burn for fast results.
For further information on PACE Fitness' line of hydraulic fitness equipment for children visit our KidsPaceExpress.com website.