Sports Training & Athletic Conditioning
In 1967, when Jerry Brentham was coaching high school athletics, he witnessed one of his athletes narrowly escape serious injury while working out with a weight machine. Jerry then set out to devise a safe method of strength training. Drawing on expertise gained earlier while working for a company that designed and manufactured hydraulic equipment, the Hydra-Gym concept was born.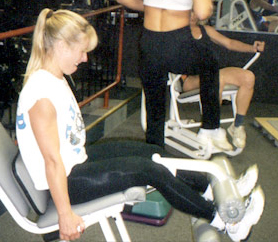 The Hydra-Gym company grew quickly, especially in sales to high schools, colleges, Olympic and professional sports teams to help athletes develop power, speed and endurance. Ballistic sports training movements could at last be performed safely with little fear of injury. A complete range of sports training equipment was developed and sales boomed.
Hydra-Gym became known as Hydra-Fitness in the 1970's and was eventually sold to Henley Healthcare in the 1980's. Under Henley, the PACE circuit training concept was developed and then continued under PACE Fitness. As the women's club phenomena grew in the 1990's, the majority of our business was to independent circuit training studios. However, we at PACE Fitness never lost touch with our roots; over the years, we have sold PACE hydraulic strength equipment to hundreds of high schools, colleges, Olympic training centers and professional football, baseball and basketball teams.
Find out how PACE Fitness can help increase power, speed, endurance and improve performance in your athletes.

Call 888.604.2244 for a customized quote or visit the Contact page.