WOMEN ONLY
CIRCUIT TRAINING CENTERS
I'm too intimidated to join a Health Club !
INTIMIDATION is the #1 reason that keeps women, especially overweight or senior ladies from joining fitness centers.
Women-only circuit training centers are one of the hottest trend in the fitness industry throughout the world. These clubs are non-intimidating, safe, fun, time efficient and create a sense of camaraderie- and get results (at least initially).
Curves Exercise Began with PACE
The very successful franchise, Curves for Women, traces its origins to PACE (the first Curves gym in Harlingen, TX had PACE equipment). However, when they started to manufacture their own equipment, they chose to use non-adjustable hydraulic cylinders which lead to one of their biggest problems- a high dropout rate when members hit the inevitable plateau and got bored and frustrated. Thousands of Curves clubs have closed in the last few years because of this and several other problems (see http://www.unhappyfranchisee.com/curves-robert-lays-story/).
Does this mean the need for women only clubs no longer exists? We say NO!
One of our biggest areas of growth has been into markets where a Curves had recently closed. See excerpt, in sidebar, from article on FranBest, one of the Franchise Industry's most notable websites.
What type of business will best meet your needs for opening a women's club, PACE or the leading franchise?
You decide:
| | | |
| --- | --- | --- |
| Franchise | NO | YES |
| Monthly franchise fee | NONE | $795.00/month maximum |
| Advertising fee | NONE | $395.00/month maximum |
| Circuit cost: 16 stations | $16,995.00 | $24,900.00 |
| Protected territories | YES, 3 mile radius | YES, 2 mile radius |
| Adjustable Equipment | YES | NO |
| Coed Capability | YES | NO |
Not a Curves for Women Franchise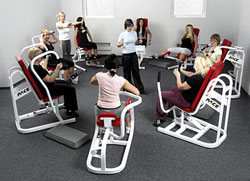 Remember, we are NOT affiliated with any Curves for Women franchise or a copy-this is the original hydraulic circuit training program! While Curves fitness has its benefits, our adjustable resistance equipment, turnkey marketing package and certified training program work with you to bring you the best in fitness. Ask yourself the following questions before choosing another center:
Why pay a monthly fee for years and years when we provide all the tools, training and support you need?
Why pay for a franchise and be told when to open, when to close and how much to charge when you do all the work? Why not add your own additional program or equipment for additional profit centers?
Why not keep your profits?
Curves Fitness Center for Women helps women obtain a smaller shape initially. With our adjustable PACE hydraulic circuit training equipment, we can help your members continue to enjoy results far after they have reached a plateau with nonadjustable equipment.