What are your needs?
Thinking of opening a 30 minute circuit training studio or adding a non-intimidating circuit program inside a larger club? Want to attract women, seniors, busy executives or the deconditioned markets? We can help!


Original Hydraulic Exercise Equipment
PACE is the world's first hydraulic circuit training program; fully adjustable, safe, user friendly and non-intimidating. PACE is perfect for senior fitness programs, women's or men's clubs, weight loss centers, coed gyms or corporate fitness centers. PACE is also challenging enough for hard core exercisers and even elite athletes.


PACE Express Equipment
PACE fitness equipment is known worldwide as the highest quality hydraulic equipment available, though some people have told us it was beyond their budgets. The PACE Express line is an lower-priced version of our equipment utilizing the same type of non-adjustable shock absorber that our competition uses; however we have added 3 positions to offer Light, Medium and Heavy quick-change adjustable resistance levels.


Add PACE Hydraulic Exercise Equipment to Your Gym
Want to compete with the franchise women's clubs? Our sturdy hydraulic fitness equipment is a great choice for your coed health club.. Women, seniors, the overweight, busy executives, new exercisers and elite athletes all benefit and see results from our safe hydraulic, adjustable exercise machines. We also offer turnkey marketing packages, certified training at your location and ongoing support with the original hydraulic circuit training equipment without franchise fees.


Benefits of PACE Hydraulic Exercise Machines
PACE Circuit Training provides clients with the highest quality hydraulic exercise machines for fast results. Hydraulic circuit training is a great benefit for your members; they will lose inches and tone up faster without muscle soreness or intimidation. Retain members & attract new members with PACE. Our 30 minute program fits into the busiest of lifestyles and overcomes the "no time" objection.


Industry Leaders for Hydraulic Fitness Equipment
PACE Fitness offers the highest quality hydraulic equipment in the industry and features a lifetime warranty on its equipment frames. Providing quality hydraulic exercise equipment, (with all the necessary support you need) at an excellent price is how we work for you!


Who has PACE?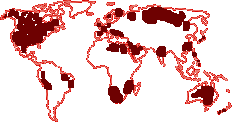 The world map to the left has dark red marks for places where PACE hydralic fitness equipment is installed.

Contact PACE Fitness for further information about how we can serve your fitness requirements.

Visit the Testimonials page to view a small collection of comments from actual users of PACE Fitness equipment.


What's new at PACE?

Rande LaDue of PACE fitness recently presented a training workshop at Snap Fitness, New Caney, Texas.

PACE Fitness recently attended the 3rd annual Snap Fitness Convention in Las Vegas as an Approved Vendor.